[ad_1]

Chris Dhanraj and the ETF Investment Strategy team discuss five themes for investors to consider as we approach the end of summer.
As summer nears its end and the kids head back to school, it is good time to take stock of where we are as investors as we head into the last few months of the year. Markets recently passed the milestone of the longest bull market on record – but that doesn't mean investing has become easier – if anything, it is even more challenging as valuations become stretched, and risks lurk, potentially triggering bouts of volatility. As the ETF Investment Strategy team describes in its latest Investment Directions, there are five themes to consider:
1. Shifting tides in the United States
The economic backdrop continues to shine, and company earnings growing by more than 25% in the most recent quarter. Yet uncertainty surrounding trade tensions has sparked investor interest in more defensive factor exposures, like quality, while fervor has cooled for more cyclical factors such as value. At the same time, growth-oriented stocks have continued their momentum – although exhibiting bouts of volatility of late. Earnings have been the drivers of both performance and pullbacks.
2. Developed markets feeling the heat
Meanwhile, developed countries and regions outside the United States have not just suffered from historic heatwaves, but continue to face political and economic headwinds. We have downgraded Europe to underweight and Japan to neutral. Political and economic uncertainty is casting a shadow over the former and lack of a catalyst in sight affects the latter, and investors should consider currency hedged exposures.
3. Why we're sticking with emerging markets
Emerging market equities have performed miserably this year, with the MSCI EM Index lagging the S&P 500 by 16% this year (Source: Bloomberg, as of 8/27/18), a victim of tighter financial conditions (namely, the strong dollar) and trade tensions. However, we continue to favor the asset class and believe this year's poor performance now creates an attractive entry point. Yet rising dispersion among emerging markets (EM) assets underscores the need for selectivity at the country level.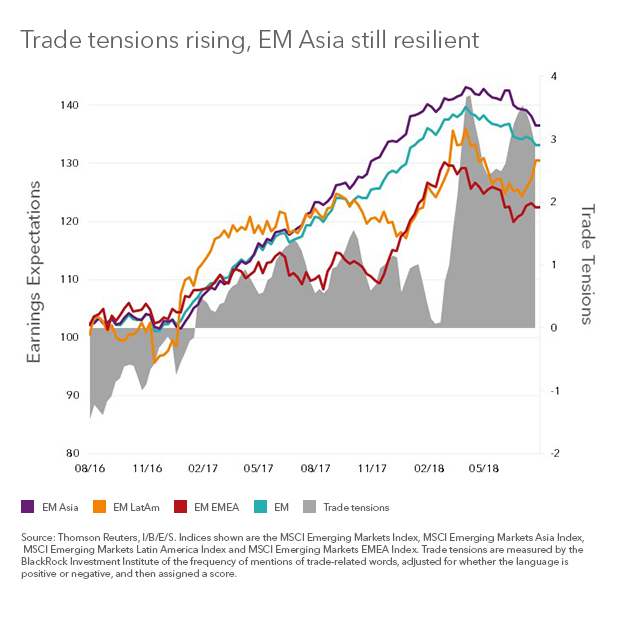 4. Focus on mortgage-backed securities
The fixed income market remains challenging, but market technicals have improved as demand from banks and others has absorbed the increased supply as the Federal Reserve (Fed) normalizes its balance sheet. The key is being selective: We think mortgage-backed security valuations remain attractive and prefer agency MBS over credit, TIPS over Treasuries and investment grade over high yield within credit.
5. The new yield environment
This year marks the most meaningful change in interest rates since the financial crisis. As the Federal Reserve increases interest rates and ends largescale asset purchases in the United States, risk-free yields have increased. The current U.S. 2-year Treasury yield is greater than 95% of the curve just two years ago (Source: Bloomberg, as of 8/27/18). The ability to earn attractive risk-free returns within short-maturity assets means that investors have a real alternative to earn yield without taking duration or equity risk. While long-duration bonds can offer diversification benefits, we continue to favor short-duration bonds.
Funds to consider
iShares U.S. Financial Services ETF (NYSEARCA:IYG)
iShares North American Tech ETF (NYSEARCA:IGM)
iShares Edge MSCI USA Quality Factor (BATS:QUAL)
iShares Core MSCI Emerging Markets ETF (NYSEARCA:IEMG)
iShares Currency Hedged MSCI Emerging Markets ETF (NYSEARCA:HEEM)
iShares MBS ETF (NYSEARCA:MBB)
iShares Short Maturity Bond ETF (BATS:NEAR)
iShares Floating Rate Bond ETF (NYSEARCA:FLOT)
This post originally appeared on the BlackRock Blog.
[ad_2]

Source link Google News