[ad_1]

By Carsten Brzeski, Chief Economist ING Germany; James Smith, Developed Markets Economist and Jonas Goltermann, Developed Market Economist
In developed markets, UK data has a big week ahead with growth expected to come in as another headache for the Bank of England. We also advise watching Swedish house price data, which could give an insight into the uncertainty surrounding their economic outlook.
Big week for UK data as economic risks build
There are three things to watch in the UK next week. First up, it's the jobs report where we expect wage growth (ex-bonuses) and jobs growth to slip back further – although both are mainly a function of base effects. Pay had an exceptionally bad start to 2017, which has been flattering the year-on-year comparison through the early parts of this year. Importantly, the Bank of England (BoE) remains confident wage pressures will continue to build.
But it's not quite the same story for inflation, due to be released on Wednesday. While headline CPI is being kept aloft by higher oil prices, core inflation is likely to remain at 2%, as the impact of the pound's post-Brexit plunge continues to wear off.
Increasingly though, we think the bigger headache for the BoE is likely to be growth. Following a dip in June, Thursday's retail sales data may stabilise. But much of the recent improvement has been down to the sun, and as normal British summer weather conditions are restored, the cracks in the retail sector are likely to resurface. Incomes remain under pressure, while the increased talk of a 'no deal' Brexit could dampen confidence over coming months. For this reason, we don't expect another Bank of England rate hike before the UK leaves the EU next year.
Norges Bank to reiterate hawkish stance
Norges Bank (NB) meets on Thursday next week and while we don't expect a rate hike this time around, the Norwegian central bank is likely to reiterate its intention to raise the policy rate by 25 basis points to 0.75% in September. This should support the krone and Norwegian rates, as markets are still some way from fully pricing a September hike from the NB. Elsewhere, Swedish house price data for July are worth watching, as the housing market remains a key source of uncertainty to the Swedish economic outlook, though we don't expect prices to have moved much over the summer holiday period.
German GDP data could still surprise
After this week's disappointing industrial data, 2Q18 GDP data could still surprise to the upside and outperform the Eurozone's 0.3%.
Developed Markets Economic Calendar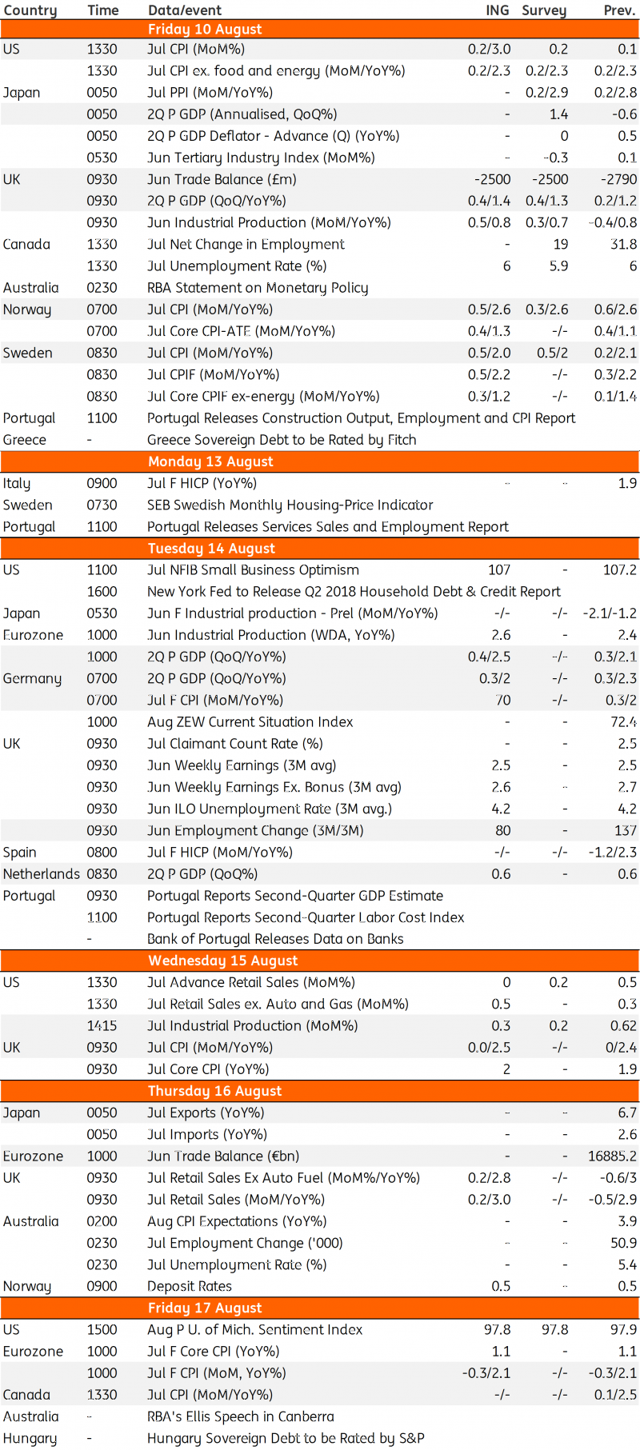 Source: ING, Bloomberg
Disclaimer: The information in the publication is not an investment recommendation and it is not investment, legal or tax advice or an offer or solicitation to purchase or sell any financial instrument. This publication has been prepared by ING solely for information purposes without regard to any particular user's investment objectives, financial situation, or means. Reasonable care has been taken to ensure that this publication is not untrue or misleading when published. For our full disclaimer please click here.
Original Post
[ad_2]

Source link Google News