[ad_1]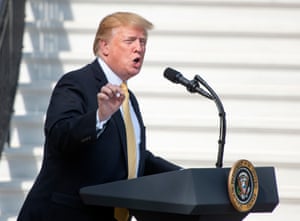 Good morning and welcome to our rolling coverage of the world economy, the financial markets, the eurozone and business.
Donald Trump likes to boast about creating one of the greatest economies in America's history. Today we discover how the US is actually performing on his watch.
New GDP figures for the first quarter of 2019 are expected to show moderate growth, at an annual rate of around 2.3% (or almost 0.6% on a pure quarter/quarter basis).
That would be fractionally higher than in Q4 2018, where growth was revised down last month, and rather short of Trump's goal of 3% growth.
Growth could have been held back by the president's belligerent trade policies, and by the Federal government shutdown at the end of last year. On the other hand, the sugar rush from Trump's tax cuts may not have totally faded, supporting consumer spending.
The figures come out at 1.30pm BST, so markets may be quiet in the meantime.
America's tech companies are certainly doing well. Last night Amazon reported that profits have doubled in the last quarter to $3.6bn, hours after Microsoft became the third US company valued at over $1tn following its own strong results.
But as today's GDP report will show, there's more to America than Silicon Valley….
Also coming up:
Royal Bank of Scotland is reporting results, a day after announcing the departure of CEO Ross McEwan.
It has posted a net profit of £707m – ahead of forecasts, but down on last year's £808m. The bank also warns, though, that Brexit is clouding business.
UK Finance will report how many new mortgages were taken out in March. But the City may be wary after last month, when the industry body initially said demand had hit a five-year low, before discovering a blunder in the numbers.
Presumably today's figures have been checked very carefully….
The agenda
9.30am BST: UK Finance mortgage approvals figures for March
1.30pm BST: US GDP for Q1 2019


[ad_2]

Source link Google News