[ad_1]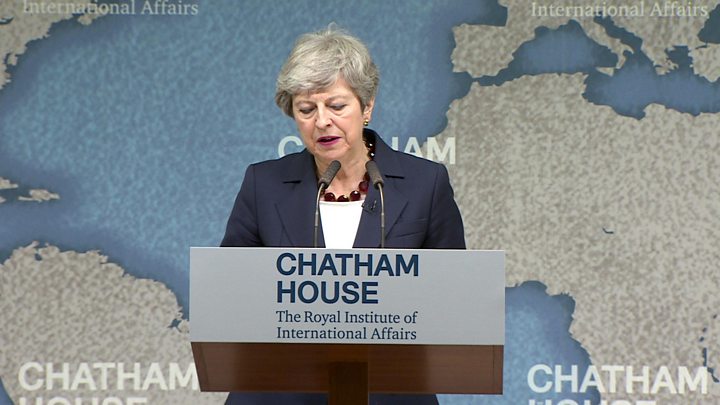 Theresa May has said the growth of an "uncompromising absolutism" in UK and global politics risks poisoning debate and undermining democratic values.
In her last major speech as PM, she said it was leading to a political culture based on "winners and losers".
If "ill words" went unchallenged, it could lead to "ill deeds" later on.
She admitted her own language had not always been "perfect" and she had been wrong to say EU nationals were "jumping the queue" in a speech in 2018.
But ex-Conservative chair Baroness Warsi said the outgoing PM had "systematically failed to challenge xenophobic and racist language" used by party members about British Muslims.
Mrs May will stand down as Tory leader and prime minister next week.
She was forced to quit after failing to persuade MPs to back her Brexit deal with the EU.
'Perpetual strife'
In a wide-ranging speech at the Royal Institute of International Affairs, she warned about the threat to the international order from populism and authoritarianism, and defended multilateral agreements such as the Paris Climate Accord and Iran Nuclear Deal, shunned by the US.
May: My pride and disappointment
May regrets EU 'queue-jumpers' comment
Urging politicians to find "common ground" over Brexit and other urgent international challenges, such as climate change, she said compromise should not be seen as a dirty word.
She said the growing rancour and "tribal bitterness" of much contemporary debate risked undermining the "enormous potential" for public good and progress that politics offered.
The job of leaders, Mrs May continued, was to address the genuine concerns of people rather than making promises that could not be kept and "telling people what you think they want to hear".
"Being prepared to make compromises in order to make progress does not entail a rejection of our values and convictions by one iota. Rather it is exactly the way to defend them."
She said politics was at its best "where persuasion, teamwork and a willingness to make mutual concessions are needed to achieve an optimal outcome".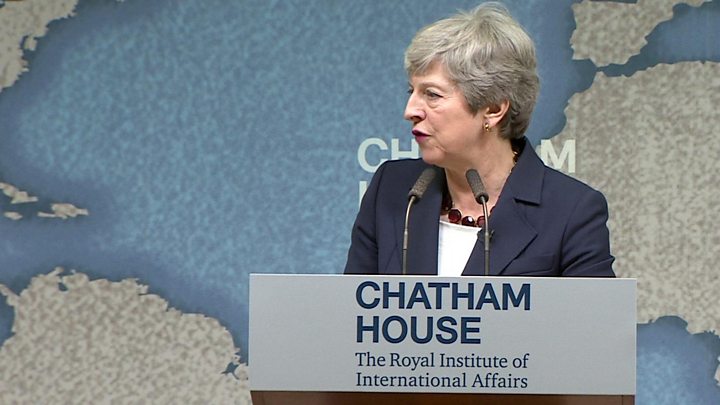 "The alternative is a politics of winners and losers, of absolutes and of perpetual strife – and that threatens us all."
On Brexit, she said while the result of the 2016 referendum must be honoured, the process had been poisoned by a "winner takes all approach to leaving or remaining".
"Whatever path we take must be sustainable for the long term… and that must mean some kind of compromise," she said.
Analysis: By Nick Eardley, BBC political correspondent
Who could she have been talking about?
Theresa May was careful not to name names, but her successor's main challenge will be the one that eventually brought her down – finding a way to deliver the UK's departure from the EU.
To that end, her cautioning against polarised debate driven by ideology will be seen by some as a warning to whoever moves into No 10 that they need to compromise.
Indeed, Mrs May emphasised her belief the UK should leave with a Brexit deal – something which will require compromise in the Commons.
Some of Mrs May's critics however might raise an eyebrow tonight – and ask if things might have been different if she'd pursued a cross-party approach after losing her majority at the snap general election in 2017.
Warning of a general coarsening of political debate, she said "some are losing the ability to disagree without demeaning the views of others".
While not mentioning President Donald Trump – whose comments about Democratic rivals has sparked a race row in the US – by name, she said that "words have consequences".
"Ill words that go unchallenged are the first step on a continuum towards ill deeds – towards a much darker place where hatred and prejudice drive not only what people say but also what they do."
But she conceded she had been clumsy in her use of language on sensitive issues, such as when last November she claimed freedom of movement had allowed EU citizens to "jump the queue" to enter the UK despite being legally entitled to do so.
"Has every phrase I used been as perfect as it should have been? No."
Earlier on Wednesday, Mrs May called on Jeremy Corbyn to apologise for failing to get to grips with anti-Semitism in the Labour Party in heated exchanges in Parliament.
Baroness Warsi, who has accused Mrs May of having her "head in the sand" over the extent of Islamophobia in her own party, suggested the prime minister had also failed.
And Brexit MEP Martin Daubney said Mrs May was directly responsible for the populism that she was now bemoaning.
[ad_2]

Source link Google News