[ad_1]

Good morning, and welcome to our rolling coverage of the world economy, the financial markets, the eurozone and business.
America has fired another shot in the deepening trade dispute with China.
Overnight, Washington said it would impose a 25% tariff on $16bn of Chinese imports, taking the total amount being targeted to $50bn.
The new levy will come into force on August 23rd, and will apply to 279 product types. It mostly affects industrial products, such as machinery, chemicals and semiconductors. Motorcycles and railway cars also feature.
Announcing the move, the US trade representative declared that America was penalising China for stealing its intellectual property, saying:



China directs and unfairly facilitates the systematic investment in, and acquisition of, U.S. companies and assets to generate large-scale technology transfer".
China is likely to retaliate soon, escalating the dispute that has been rumbling for weeks.
But… China may not be suffering from the trade war yet. Data released this morning shows that the country's exports jumped 12.2% year-on-year in July, beating expectations.
Imports surged by a sparkling 27.3% – meaning China's trade surplus shrank during the month to $28bn (from over $41bn in June).
This is significant, as America's first wave of tariffs (on $34bn of Chinese goods) began in early July. Those tariffs have been blamed for a drop in German factory orders, but today's figures suggest China's economy is holding firm.
Of course, it's still early days. Global trade, like the massive container ships it relies on, changes course slowly. Plus, China's manufacturers may be benefitting from the country's weaker currency, given the yuan has fallen pretty steadily recently to a 13-month low.
Julian Evans-Pritchard, senior China economist for Capital Economics, explains:



Adjusting for seasonality and price effects, we estimate that export volumes were essentially flat in July. Shipments to the US did weaken slightly, which suggests the tariffs had some impact.

But this was offset by stronger exports to the rest of the world, most likely buoyed by the weaker renminbi.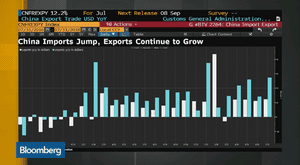 Mike van Dulken of Accendo Markets agrees that China's trade data is encouraging, especially in the current climate.



China trade data showed stronger growth in both exports and imports, notably the latter, suggesting strong consumption both domestically and internationally.
But
Also coming up today…
Wall Street will be watching for Elon Musk's next move, after the inventor/entrepreneur surprisingly announced he plans to take Tesla private.
Shares in the electric carmaker surged last night, burning sceptical investors who had bet against the company. Going private would take some pressure off Tesla to meet financial targets (and prevent Musk having another row with the analyst community)
However, shares aren't at the $420 level which Musk pitched his somewhat vague offer at (which has sparked grumbling about market manipulation), so Tesla's future remains uncertain.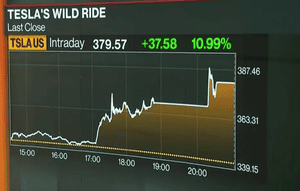 Oil is calm this morning, having risen yesterday after the US issued new sanctions on Iran. Later today we get the latest American oil inventory figures, which may show a drop in stocks.
The agenda
3.30pm BST: US weekly oil inventories
[ad_2]

Source link Google News