[ad_1]

"Meanwhile, we expect the government to seek to support the economy through higher spending amid growing signs of a global economic slowdown, and this will likely delay its achievement of a fiscal surplus."
Fitch has previously underestimated the ongoing improvement in the federal budget over recent years and is more downbeat than other economists. The ratings agency was forced to upgrade its earlier budget revenue estimates for Australia, though not as much as the federal government did last month.
Ahead of the election, the Morrison government has staked its economic credibility on the forecast return to surplus next fiscal year, in what would be the first time the government's books were in the black since the Howard government delivered a surplus before the 2008 global financial crisis.
The 2019-20 final budget result won't be known until more than 12 months after an expected May election.
The world economy, particularly China, slowed late last year, amid rising global interest rates and the US-China trade war.
UBS economist Arend Kapteyn said global "growth momentum is deteriorating virtually everywhere."
The Federal Treasury believes it has used conservative assumptions on China's economic growth and commodity prices, giving the government some buffer if the world economy slows a bit and there is an impact on corporate tax revenue that is closely linked to the commodity market.
Despite booming government revenues from commodity exports and corporate profits, the government's mid-year economic and fiscal outlook last month forecast economic growth to edge down to 2.75 per cent in 2018-19, from 3 per cent tipped in May, less bullish than the Reserve Bank of Australia.
The government downgraded consumption for this financial year, but is betting the softness in consumer spending will be temporary and hopes it rebounds as a long-awaited pick-up in wages materialises in 2019-20 when the labour market tightens with unemployment around 5 per cent.
Respected Canberra budget forecaster, Deloitte Access Economics has warned the budget is highly dependent on soaring revenues continuing to be delivered into Treasury coffers thanks to strong corporate profits linked to the world economy and China's demand for commodities.
Deloitte Access Economic forecast an underlying cash deficit of $4.9 billion in 2018-19 — the smallest since the global financial crisis — followed by a small surplus of $4.2 billion in 2019-20. These are almost identical to the government's forecasts.
The government has socked away $9 billion for unannounced additional personal income tax cuts to voters before the federal election, as booming corporate tax collections put the budget on track for a surplus next financial year and deliver a spending war chest.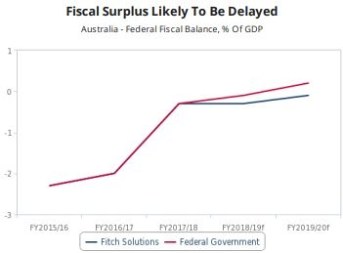 [ad_2]

Source link Google News