[ad_1]

Good morning, and welcome to our rolling coverage of the world economy, the financial markets, the eurozone and business.
Tensions between the US and China remains the top issue worrying investors, as fears growth that the trade war will morph into a tech war too.
Overnight, the US has rowed back some of the sanctions imposed on Huawei last week, having possibly realised that the restrictions may have gone too far.
The Chinese telecoms giant has now been given 90 days to purchase American-made goods in order to maintain existing networks and provide software updates to existing Huawei handsets.
Commerce secretary Wilbur Ross said this new licence will allow US companies to keep doing business with Huawei for the next three months:



"The temporary general licence grants operators time to make other arrangements and the [commerce] department space to determine the appropriate long term measures for Americans and foreign telecommunications providers that currently rely on Huawei equipment for critical services."
That reverses (if only temporarily) the blacklisting of Huawei announced just last week, which prevented it buying equipment from American firms, or selling its services in the US.
The move is bringing some calm to the markets, which were rattled yesterday after Google dramatically suspended support for Huawei.
The move should help third-parties who rely on Huawei's equipment as they scramble to find alternative suppliers. Otherwise, some smaller telcos could suffer network outages
It may also deter Beijing from hitting back at US companies.
Yesterday, China's ambassador to the European Union condemned America's "wrong behaviour", and vowed to respond.
Zhang Ming called Donald Trump's moves "politically motivated" and an "abuse of export-control measures, telling Bloomberg:



"Chinese companies' legitimate rights and interests are being undermined, so the Chinese government will not sit idly by."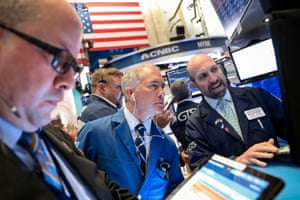 Anxiety over the Huawei crisis hit technology stocks yesterday, sending America's Nasdaq index sliding by almost 1.5%.
But shares have jumped in China overnight, and we're expecting a positive open in Europe too:
Also coming up today
Europe's top economic thinktank, the OECD, will issues its latest economic outlook this morning. Trade tensions are likely to feature highly.
Plus, we get a new healthcheck on Britain's factories.
The agenda
10am GMT: OECD publishes new economic outlook
11am GMT: CBI's latest monthly industrial trends survey


[ad_2]

Source link Google News