BLACKSBURG — One of Virginia Tech's leading computer science researchers, Chris Barrett, is joining the University of Virginia to lead a new Biocomplexity Initiative that will focus on computational science and artificial intelligence focused on human health and behavior.
The new initiative will allow for more statewide enterprise, Barrett said.
Richard Shannon, UVa's executive vice president for health affairs, said the initiative will primarily include UVa, Inova Health System and George Mason University.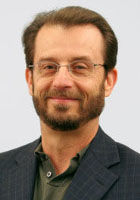 Tech's Biocomplexity Institute pulled in $103 million in grant awards in the first six months of the last fiscal year, according to its website. Researchers from Blacksburg likely will be moving to Charlottesville and Fairfax to take part, Shannon said.
Shannon cited UVa's research partnerships and well-regarded health system as the perfect backdrop for Barrett's work.
Barrett declined to say whether he would bring anyone with him from Blacksburg.
Barrett's annual salary at Tech was $391,470 — putting him among the university's top 20 highest-paid employees, according to the Richmond Times-Dispatch state salary database. His salary at UVa was not immediately available Tuesday.
Founded in 2000, the Biocomplexity Institute is one of seven research institutes at Virginia Tech, and among the first institutes created at Tech. The institute is dedicated to the use of high-performance computing and mathematics to extract information from so-called big data. Tech's institutes exist outside academic departments and are focused on grant-funded interdisciplinary research projects.
Before Barrett came on board, the institute was known as the Virginia Bioinformatics Institute. In that incarnation, two of the institute's previous directors left their roles after controversies spurred inquiries and audits.
Tech President Tim Sands said he gave UVa's new president, Jim Ryan, a call this week to discuss the future of biocomplexity in Virginia and the relationship the two universities would have moving forward, especially related to research.
Sands also held a town hall meeting Thursday morning alongside Vice President for Research and Innovation Theresa Mayer and interim Provost Cyril Clarke with institute employees in an effort to temper speculation about departures and accept responsibility for a "colossal misunderstanding" that led to Barrett's departure.
A Roanoke Times reporter was present for Sands' opening statement but was asked to leave for a question and answer period so employees could discuss internal personnel matters candidly.
Tracy Vosburgh, a Tech spokeswoman, wrote in an email that during the question and answer portion Sands and Clarke reiterated Tech's "commitment to Biocomplexity and the people who are a part of it. Sands underscored the university's commitment to continue to invest in the institute and to grow it."
Tech officials and Barrett have maintained that they want to work together as part of UVa's new initiative.
"Virginia Tech continues and plans to continue to invest in this institute," Sands said. "I'm optimistic for the future but I regret how we got here."