[ad_1]

MUMBAI/NEW DELHI: Months after Disney closed a deal to acquire Rupert Murdoch-controlled 21st Century Fox's major global assets — including Star India — for over $71 billion, the promoters of Zee Entertainment on Monday unveiled a share sale plan that could lead to a blockbuster merger and acquisition deal in the Indian media industry.
Zee said that "Subhash Chandra and family along with its advisors met in Mumbai over the Diwali weekend" and decided to offload up to half of its promoter holding of about 42% in flagship Zee Entertainment Enterprises Ltd (ZEEL), as part of a "strategic review of its businesses in the changing global media landscape".
Storied investment banker Goldman Sachs has been appointed to scout for suitors. The outcome of the strategic review is expected to be concluded by March-April 2019.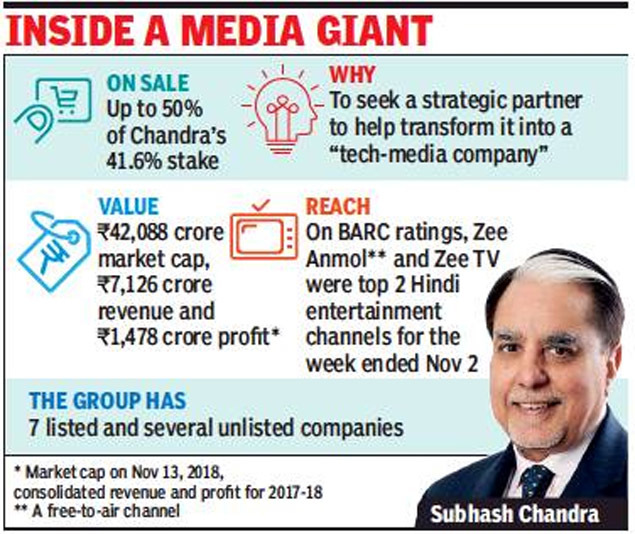 Among the names that are already doing the rounds as potential buyers are Mukesh Ambani's Reliance Industries, which is on the hunt for content to feed Jio, US cable giant Comcast, Alibaba, Apple and Google.
While Zee's communication to the stock exchanges said it was seeking a "partner" for up to 50% of promoter holdings, investment bankers and media insiders believe it might be persuaded to sell its entire stake. "If you want a global player or even Reliance, they'll want control if they're going to pay a strategic premium," said one of them.
By his reckoning, Zee could command a 30% premium over its current market valuation of about Rs 42,000 crore, or about Rs 55,000 crore. The promoter stake of 41.6% (as of September 30) – of which 59% is pledged – would then be worth about Rs 23,000 crore.
"The company has been doing well in its domestic business but given our global ambitions, we are looking for a partner with expertise in technology," Chandra's son Punit Goenka, ZEEL's managing director & CEO, told TOI. "Gone is the time when we could do it on our own. From a content company, we want to become a content and technology company."
Zee's consolidated revenues were Rs 7,126 crore in 2017-18 and profit after tax was Rs 1,478 crore.
Asked if the promoters would be willing to sell their entire stake given the right valuation, Goenka said no. But, he added, the company would be open to multi-level deals that could see the new partner pick up higher stakes in subsidiaries, for instance, Zee5.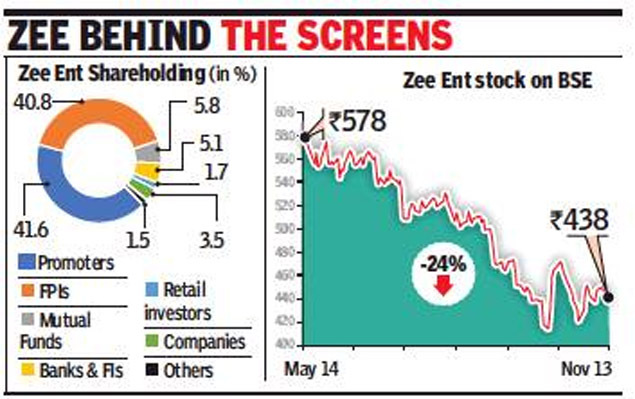 Chandra may be emulating Murdoch
Brushing aside threats to traditional broadcasting businesses from new-age over-the-top (OTT) players, including Amazon Prime Video and Netflix, ZEEL's managing director & CEO Punit Goenka said he expected Zee's portfolio play to change dramatically in the next five years.

Murdoch's Indian general entertainment and OTT platform Hotstar were said to be key to Disney's takeover interest — and while there was no geography-wise break-up of valuations, a few media observers placed Star India's as high as $10-15 billion. In fact, analysts said Chandra, who wants to retain control over Zee's news broadcasting assets, could be emulating Murdoch. "The Zee Entertainment stock hasn't done well recently. But the fundamental value is higher. The promoters want to realise that value," said an analyst.
"There is informed recognition that the world is convergent today and the lines across media, telecom, manufacturing and technology are thinner than ever. The review showed that the family needs to accelerate efforts to stay ahead of fastchanging trends," Zee said.
"Zee is likely to elicit high interest from global players and valuations are likely to reflect the inherent scarcity premium since there isn't any comparable asset left in the Indian media space after this," said Sanjay Jain of Taj Capital, a New Delhi-based investment advisory firm. "With the transformational changes happening in media globally with OTT platforms, Zee offers a serious content platform including films and studio strengths, which can be built upon to shape it for evolving technologies in the internet space," he added.
Zee Network has assets in Hindi and a swathe of vernacular markets, giving it a national footprint. The OTT business under Zee5 has become the largest after Hotstar. Advertising revenues (63%) and subscription revenues (30%) contributed a major chunk of topline, according to company officials. Essel, which is promoted by Chandra and which has a stake in Zee, also has distribution assets in Dish TV and Siticable.
[ad_2]

Source link Google News